Meercat Consulting, Brighton

mobile: 07831 202730

tel: 01273 747408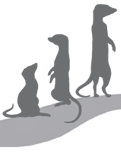 Examples of our recent projects:

• Change management work with staff at all levels to improve performance and maintain motivation during a merger

• Project Team survey and workshop to enhance partnership work in a joint venture

• Staff engagement workshop to support new company management

• Development and delivery of a strategic client perspective workshop

• Change survey carried out to inform senior managerís actions during a major restructure

• International Leadership programme; developing a capability framework, evaluating leaders against it, designing appropriate development processes and delivering these in a strongly business focussed environment.

• Designing and facilitating a Leadership Development Programme that included a Development Centre with 360 feedback and psychometric testing, action learning sets and one to one coaching.

• Graduate Assessment Centres were designed to specifically test against company competences in a way that was positive for candidates and enabled the organisation to make robust decisions.

• Creating a group-wide programme for senior managers to develop skills and enhance business synergy.

• Working with a group of specialists to enhance their team dynamic in order to improve relationships and effectiveness.










please scroll down for more


Sarah was always very professional, helpful and enthusiastic. She introduced a valuable dimension to our graduate assessment days and was instrumental in the selection of high potential individuals.
Rosa Radelat
UK Refining and Marketing Recruitment Manager,
TOTAL UK Limited